Cold Storage
Prefabricated cold storage buildings are another product in our portfolio that find wide application in pharmaceutical and food industries. Prefabrication is our area of expertise and this is another product that have immense demand in the market! Apart from food and pharma, other sectors that use cold storage are sea food, floriculture, cream industry to name a few.
Prefab Devloper's prefab cold rooms are one of the reputed ones in the market today. Our cold room solutions consist oflarge-scale walk-in cold rooms, blast freezers, food ripening chambers, large pre engineered rooms for cold storage, pre-coolers, etc.

Features :
❖ Custom designed buildings with insulated sandwich panels for wall and roofing.
❖ Multiple options to choose among sandwich panels – PUF/EPS/Rockwool/Glasswool
❖ The modular freezer room walls of various heights and ceiling panels for longer spans with good thermal break suspender systems is offered by the best cool room manufacturers
❖ International standard joinery systems for wall to ceiling and wall to floor panels
❖ Doors with Fermod hinges, locks and handles along with release button from inside are offered for the complete range by cold storage room manufacturers
❖ PVC / Aluminium coving (Optional)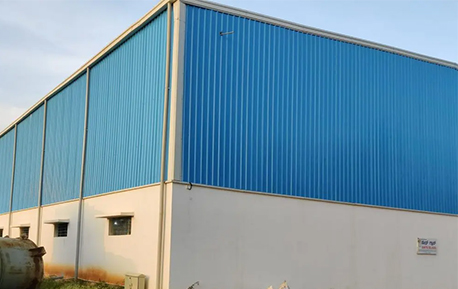 Applications :
❖ Cold storages for food processing industry
❖ Freezer rooms for diary and ice cream plants
❖ Cool room warehouse construction
❖ Modular freezer rooms for meat, chicken and fish processing industry
❖ Refrigerated rooms for pharmaceutical storage applications
❖ Cold storage panels for ripening chambers
❖ Commercial cold rooms
❖ Vegetable cold storage rooms

Prefab Devloper has over 20 years of experience in manufacturing of cold storage solutions. We have made cold rooms the most blue chip companies across India. Made using premium quality raw materials, our cold storage rooms are energy efficient and long lasting. The components are manufactured in our own unit following guidelines. Our cold rooms are durable, energy-efficient and reliable. They have been appreciated for quality and cost-effectiveness throughout their life span.