Rock Solid, Eco-Friendly Construction With LGSF (Light Gauge Steel Framing)
Light Gauge Steel Frame Construction
is a modern and reliable way of construction that is majorly being applied worldwide. In many sectors, it has even exceeded the usage of wood prefab construction due to the flexibility of design options. Light gauge steel frames are manufactured from structural steel sheets that can be formed into different shapes and sizes to support heavy loads. In some parts of the world, light gauge steel is also known as cold-formed steel. The attributes of lightness yet capable of withstanding heavy loads have led to its wide popularity.
Prefab Devloper offers competitive
Light Gauge Steel Frame Building Construction
solutions across a wide range of construction solutions. We have in-house capability for end-to-end execution from planning, design to onsite delivery. The design and execution are customized according to requirements within the stipulated timeline for completion.
The components of light gauge steel framing include wall system, roofing system, flooring system, coating, and accessories. This state-of-the-art technology is put into use for multiple applications to serve in commercial and residential sectors alike.
9 Qualities that make LGSF a coveted choice
LGSF structures have gained immense popularity across the world for its qualities which include:
1. Manufactures in controlled environment
In light gauge steel framing construction, the components (both structural and nonstructural) are made in the factory with quality checks. This leads to a minimal construction error, reduces construction waste, and improves the overall quality of construction.
2. Lightweight structures that are high on strength
The lightness of LGSF is an attribute that leads to its popularity, albeit having the capability to withstand heavy loads. Its foundation is also small and can be built without the strenuous efforts that construction is known for.
3. Flexibility of design
Being high on strength, light gauge steel frames last longer, without requiring conventional support through intermediate columns or load-bearing walls.
4. Quick construction
Structures built with light gauge steel frame can be erected quickly, being lightweight.
5. Corrosion resistant and non-combustible
Being non-combustible and corrosion resistant, LGSF solutions from Prefab Devloper are known for safety and provide extreme durability for lasting long. Also, steel has non-combustible properties which make it a preferred choice among many.
6. Structural Quality
Buildings made using a light gauge steel framing solution have many qualities. The two most likable ones are durability and low maintenance. Besides, steel does not rot, shrink, warp nor get decomposed with the passage of time.
8. Can be remodeled with ease
Spaces with Light gauge steel frame construction can be modified (expanded) with ease. Non-load bearing walls can be readily relocated, removed, or altered.
9. Recyclable
The core structure of LGSF being steel is obviously recyclable. Prefabrication is a modern alternative to traditional brick and mortar construction. In India, there is a rising demand for prefabricated construction, especially in the government sector and PSUs. Of late, several projects have been started wherein light gauge steel modular construction is the preferred choice for fast and efficient construction.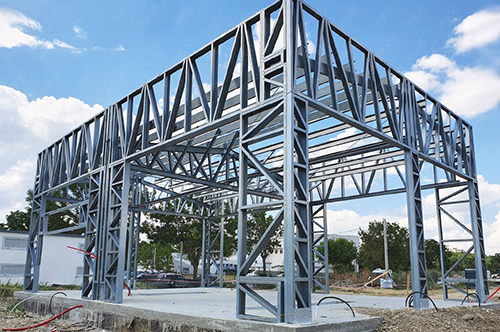 Various Applications of LSGF Construction
❖ Aircraft Hangers
❖ Medical Buildings/Hospitals
❖ Commercial Buildings (supermarkets, poultry sheds, etc)
❖ Residential Complexes (farmhouses, villas, etc)
❖ Dry Walls
❖ Bathroom Pods
❖ Educational Buildings (schools & colleges)
❖ Solar Panel Mounting
❖ Hospitality (hotels resorts etc)
❖ Hybrid Structures (Ground + 4 to 15 floors)