Prefabricated Site Structures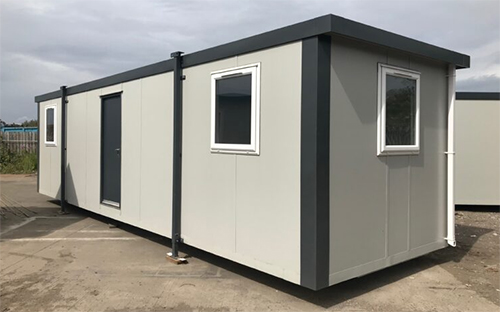 Portable site offices – modular and affordable
The demand for workspace is ever increasing with new workforce joining every year. Building a permanent office needs a lot of time, effort and cost. However, if there is a demand for space, it has to be built. To iron out the financial strain on companies, the concept of portable site office was conceived.
Portable offices have been around for several years now and cater toa wide range of different industries. It is particularly popular in those business sectors that need their staff to move around frequently. Such organisations always stick to their choices of havingprefabricated and portable site offices than building permanent ones. The reason is self-explanatory. It saves them time and proves affordable. If one has to build apermanent offices at every project location – needless to say the cost would go through the roof.

Features of portable site office
Custom Built and prefabricated construction with wall cladding options of PUF Insulated Panels / EPS Insulated panels / Rockwool.
It is possible to build walls of different heights as per requirements and specifications.
Light weight panels are easy to lift and install, which makes transportation easy.
Large glass partitions can be installed to increase the aesthetic appeal.
It is possible to have smoke detectors, fire fighting equipments and ACs fitted in these portable offices for comfortable and snug working environment.

Three Noteworthy Benefits of having a portable site office
(1) High insulation properties: The wall claddings in portable office cabins are done with insulated sandwich panels. These panels can retain room temperature by radiating off outside heat. So, you get a comfortable working space without having to spend a bomb on electricity bills.

(2) Portable and easy to transport: As the name itself sounds, these cabins are portable. They can be transported in a truck as a whole or be disassembled and carried, depending on the size. Once the new location is reached, It is easy to reassemble these cabins. All you have to do is join the panels and structures in modules and that's it! Your building is ready.

(3) Affordable alternative to traditional construction: Portable site offices are affordable. It is constructed offsite and assembled at the location and serves as a great alternative to traditional brick and mortar construction

At Prefab Devloper, we build custom designed portable site offices that are easy to transport, have optimum weight and are durable. We use the best quality raw materials for construction, with the process being supervised by a team of professionals. Quality check is done thoroughly following guidelines, before the product is delivered.